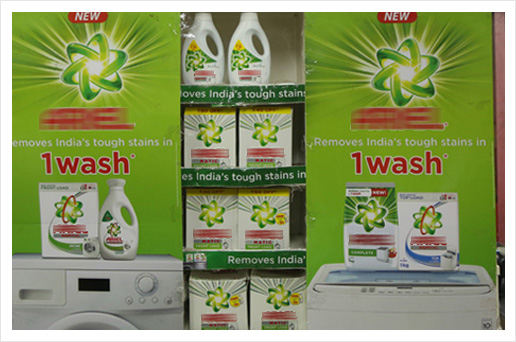 Have you ever wondered how is the budget for retail execution being used on field? Are you looking for retail intelligence that will help you to evaluate visual merchandising in the store and hence increase your sales?

Well....we have been doing this successfully with some leading companies in India over the last 8 years. Retail Scan is a pioneer in India in 100% customised retail audit. Retail Scan has a proprietary app based store tracking technology. Our well trained auditors go on field and capture the status of instore merchandising elements like windows, assets, POSM elments, planogram, product availability on shelf, etc. through survey data and images.
Companies can even ask its own merchandisers or sales force to do retail audit by themselves. The app allows the user to geo-code every store and upload data and images within a minute. These are then processed within minutes and are published online. A live alerting process communicates non-compliance areas in execution to the problem owners and improvement is tracked online. Today, Retail Scan is a preferred partner of several Indian & MNC companies, acting as their eyes and ears for tracking all types of in-store issues, leveraging the information to quickly correct systemic flaws and helping them improve execution and sales numbers on an ongoing basis. Our service helps the Companies to effectively plan their In Store Visibility Strategy. In short, a continuous improvement process Consider India.... a country which is characterised by more than
6 million retail outlets that account for almost 90% of total retail sales in the country. While organised retail is gaining ground, traditional or general trade is also innovating to stay relevant. Over the last 8 years, we have asked many a big FMCG players about how many outlets they reach. The answers have been anywhere between 0.2 million-1 million. However...when we asked some further questions like, "How many of your top stores in Chennai....as we speak, are out of stock on your best-selling brands?" or "Is your shelf share keeping pace with your market share?" or "What is the optimum throughput level of your top 3 brands in a typical mass merchandise store in Bangalore that can help the retailer maximise his return on capital employed?" ....the answers have not been that assertive. Actually, that explains it. This is where Retail Audit Services help companies the most.
What Retail Scan brings to the Table:
An app that allows the user to collect survey data, images and geo-code of every store and upload data and images within a minute.
A live alerting process that communicates non-compliance areas in execution to the problem owners and improvement is tracked online.
Objective scoring of store based on KPIs of the visibility program. Scores can be aggregated to evaluate performance of merchandisers and sales team.
Online dashboard to view scores as well as analyse the implementation of KPIs in store as well for the sales and merchandising team.
Retail Scan acts as a company's eyes and ears for tracking all types of in-store issues, leveraging the information to quickly correct systemic flaws and helping them improve execution and sales numbers on an ongoing basis
Actionable Retail Intelligence



Evaluate store performance



Measure merchandiser & Sales Team's Performance



Gain Actionable Retail Insights